Our editors independently test, research, and recommend the best products. You can learn more about our review process here.
For versatility and space-saving, adjustable dumbbells offer a fantastic amount of convenience, particularly for small home gyms or people living in apartments. And though early iterations were less than impressive, with clunky, wonky mechanisms, these newer models are better than ever.
The latest, high-tech dumbbells come with noise buffering technology, grip enhancements, and are easy to stow when not in use. In this article, I will provide reviews on some of the best adjustable dumbbells you can buy:
These are some of the nicest dumbbells you can buy. You can adjust the weight from 2.5-pound increments up to 25 pounds. And you can rapidly switch from one exercise to the next. Owning these Bowflex dumbbells is equivalent to owning 15 sets of weights when you use the unique dial system.
After purchasing the Bowflex SelectTech 552 dumbbells, you won't have to clutter your home gym with weights. And for longevity, these dumbbells come with a two-year warranty on parts and weight plates. The total weight of this set is 118 pounds at 52.5 pounds per dumbbell.
The SelectTech dumbbells come with a rubberized finish, grippy and useful. They're textured, so you're less likely to drop them, even when your hands are sweaty. The red accents on the ends of the handles are functional, allowing you to determine when the handles are correctly aligned to add more weight plates.
With a pair of stands, this equipment is even more convenient. The stand sits close to the ground and is made out of sturdy PVC plastic. Because they don't take a lot of space, you don't have to set them on the floor and take up space in your living room. You can buy this pair of dumbbells with confidence, as it includes a 2-year warranty, covering the whole kit, with the handles, weights, and other elements.
Weider Select-a-Weight 50 Lb. Dumbbell Set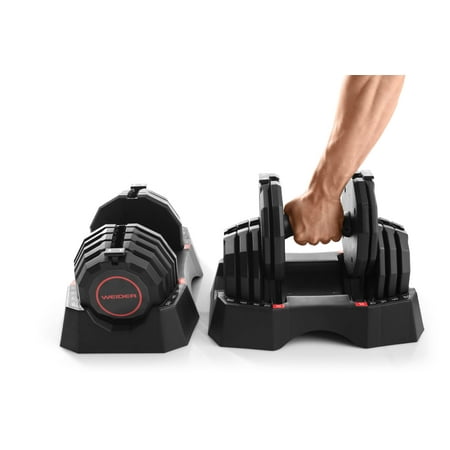 Providing virtually ten dumbbells at once, the Weider Select-a-Weight 50-pound dumbbell adjustable gives you the ability to maximize your storage space without sacrificing the quality of your workout sessions.
This home gym equipment comes with a Smooth Selector System, allowing you to integrate these weights into your strength training routine without ever losing focus.
Doing exercises such as squats and lunges, you can tone your hamstrings, flexors, quads, and glutes. Build up your shoulders and chest with challenging, consistent resistance. Included with this package are also storage trays for you to put your weights when not in use.
Features:
Power Block EXP Stage 1 Adjustable Dumbbell Set
With a different weight range of 5 to 50 lbs, this Power Block adjustable dumbbell set is expandable. You can use this set in the place of 16 different pairs of dumbbells or 825 pounds worth of free weights. The patented design helps to keep your home workouts space neat & organized.
When using these Powerblocks, the center handle will tend to be the most useful, but you can also lift these weights from the corners. This is useful for strengthening your hands and forearms, as you'll have to work harder to control the weight. The grips are padded in foam, making them slip-free and comfortable, though they may not be as durable as steel or rubber handles.
Each pair is adjustable from 15 to 50 pounds in 5-pound increments, but the ability to expand your base kit will be particularly attractive to powerlifters. There are to expansion packs you can buy. One will increase the weight of these weights to 70 pounds, and the next expansion will increase the weight to 90 pounds. Because the handles have been designed to accommodate more substantial weight levels, you won't have to modify the core kit.
NordicTrack SpeedWeight Adjustable Dumbbells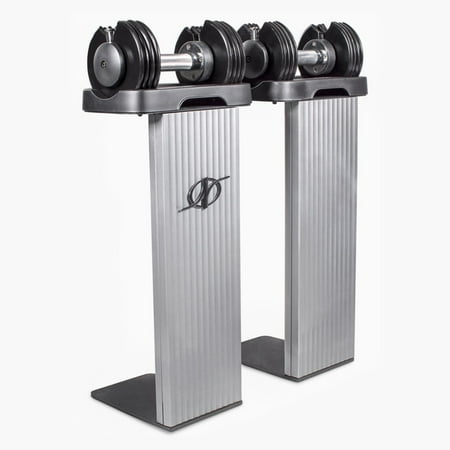 These NordicTrack Speedweight Adjustable Dumbbells provide a way for you to maximize your storage capabilities with space-efficient equipment. As core home fitness equipment, these dumbbells come with a convenient storage tray. You can use this equipment for biceps and triceps with curls and extensions, build your back muscles with rows, and strengthen your legs with lunges and squats.
TELK Adjustable Dumbbells
No list of dumbbells would be complete without the inclusion of the less mechanical, more standard options. This set comes with cast iron plates that fit any standard bars, as well as two 10-inch chrome barbell rods, with textured, non-slip chrome handles. The star-lock collars rotate on the threaded barbells to add or remove plates.
Topeakmart 66LB Adjustable Dumbbell
This pair of dumbbells comes with four 5.5-pound plates, four 4.4-pound plates, four 3.3-pound plates, and four 2.8 pounds per plate. Also included are two dumbbell bars as well as four collars. These weights are perfect for getting a workout in at the office or home.
With wear-proof plating, the iron bars should be able to hold up over time under the weight of the cement weight plates. The weights are also covered in plastic to prevent damage to your floors if dropped.
CAP Barbell Adjustable Dumbbell Set
This dumbbell set provides cast iron plates fits most 1-inch standard bars. The high-grade plates come with a black epoxy finish that withstands corrosion and rust. The plates stack up to 200 pounds total, with four plates in 2.5 pound increments, four 5 pound plates, and plates in sixteen 10 pound increments.
This set of dumbells is ideal for targeting different muscle groups and full-body workouts. With diamond knurled chrome handles, you can enjoy a secure grip on each dumbbell supported by cold-rolled steel. The star-lock collars are easy to loosen and change the weight, before tightening on the threaded ends.
This fitness adjustable equipment eliminates the need for multiple dumbbells or weights around your home. The functional and versatile design provided by this weight set will satisfy all your core home fitness needs.
Features
Resistance training (otherwise known as weight lifting) isn't just for bodybuilders. We know that lifting weights carries a host of benefits apart from making you look "buff." From increasing stamina to balance exercises, from improving bone density to boosting metabolism, resistance training a sturdy support pillar for your entire fitness regimen.
Adjustable dumbbells provide you with opportunities to work out any way you require without having to buy dumbbell sets. You can build strength on your terms, toning whichever muscles. You can use dumbbells for curls, presses, rows, pullovers, flys, deadlifts, lat raises, and more. From tricep presses to rows and fortified lunges, you can use these dumbbells to modify wight levels quickly. You can spend more time working out and less focused on playing with your equipment.
Use Adjustable Weights to Supercharge Your HIIT
You can use weights to complete a variety of exercises with high intensity at rapid speeds. If you're engaged in exercise regiments such as CrossFit or HIIT, there is little time to change weights, make adjustments to different kinds of machines, and so on. You'll need to make your adjustments quickly and get back to working out.
If you're committed to working out at home, a set of dumbbells can save you time and money as well as space. For working out in small spaces, a set of adjustable dumbbells simply makes more sense than traditional ones.
Questions and Answers
What are the heaviest adjustable dumbbells?
For the heaviest, I would recommend the CAP Barbell Adjustable set. Cumulatively, the weight adds up to 200 pounds and is one of the heaviest sets on the market.
What are the best adjustable dumbbells?
The Bowflex Selecttech 552 dumbbells are one of the highest-quality sets you can buy, but if you can't afford them, many people opt for the Powerblock.
Are adjustable dumbbells worth it?
They're better than nothing, and suitable options if you have limited space or if you're living in an apartment. The issue is that adjustable dumbbells are more prone to damage when dropped. Because some of these models include small parts, sometimes made of plastic, you have to be extra careful not to abuse them.
Why are adjustable dumbbells so expensive?
These kinds of dumbbells tend to be manufactured abroad, and because they're so heavy, they're expensive to ship. Most dumbbells are made out of cast iron, which is a much more costly material to transport than others.
How does an adjustable dumbbell work?
Different kinds of dumbbells have different ways of adjusting the number of plates included on the bars. Some use pins, other use levers. Some use threaded handles. Depending on the model that you purchase, you will use different methods for changing the weight.