Having your own bench, barbell, pull-up station, and squat rack at home for muscle building would be incredible for a full body workout from home. As your gym membership might no longer be useful, we have to look for alternatives.
But if you live in an apartment or don't have space for a home gym, you're going to have to look for other alternatives. Fortunately, there are plenty of compact, multiple-purpose gyms available. Folding equipment can either be stored under your bed, or kept in the corner of your living room.
Today, we're going to examine some of the options for the best home gyms for small spaces. Whether you live in an apartment, a house, or simply have limited space to store workout equipment, you should be able to find everything you need in this roundup review.
Best Compact Home Gyms Review
Like a smith machine, this is one of the higher-end space-saving options for muscle building. This multi gym utilizes Power Rod resistance technology to provide over 60-gym quality exercises. This weight bench model comes with a sliding seat rail, allowing you to perform leg presses and aerobic leg presses. Use the included lat pull bar and squat bar to work your back and core.
Build your back muscles rapidly with the angled lat tower and build your shoulders. Create custom full body workouts with multiple cable/pulley positions. Use the triple function handgrips and ankle cuffs to get more out of the resistance system. Lastly, the wheels and folding bench provides easy storage, so you can move the gym as required.
Upgraded models include items such as the Bowflex PR1000, and Bowflex PR3000.
As the best compact home gym in this price range, it can meet most of your training routines with the pulley system and 10-pound weight plates. The high quality weight stack totals 210-pounds with heavy-duty construction and extra-thick DuraFirm pads.
The included Pec-Fly station comes with its own seat, which is a special feature for comparable gyms in this price range. This model comes with three different sets of pulleys, high, mid, and low.
This gym enables a full range of exercises, including crunches, chest press, tricep extensions, mid rows, press downs, and leg pull. The thick Disaffirm Pads help you avoid lower back strain while providing comfort. This gym was built to withstand pressure and support your demanding weight training routine.
TRX GO Suspension Training
This gear was created for you to get the best workout possible while traveling. But as a kit of tools to do strength training exercises, it is also suitable for people that need to get a workout in but don't have a lot of extra space. Not only does this equipment come with workout guides, but it also has an app you can download to learn easy core strengthening exercises.
These things come in handy for burning fat, increasing endurance, building muscle, and improving your flexibility. Using seven foundational moves, you can get a full workout with planks, squats, lunges, hinges, and rotations. The TRX anchors can be connected to any door, tree, pole, post.
And with the Go Suspension Trainer Travel kit, you'll have the freedom to work out from home or anywhere you travel. When you purchase this equipment you get six months of the premium TRX app, so you have extra guidance to achieve your fitness goals.
Total Gym XLS Men's and Women's Universal Total Body Home Gym Workout Machine
As a trendy space-saving solution, the Total Gym XLS provides a way for you to engage in over 80 exercises. Whether you're focused on building muscle, strength training, stretching, or cardio, this home workout machine does it all. This machine has a 400 lb weight capacity for stability and strength.
One noteworthy thing about the XLS is how much detail it provides to help people engage in the activities they choose to.
Included are seven DVDs on their online video platform to help you get the most out of your investment at home. You also get a full body exercise wall chart, a training deck, and a meal planning guide.
This model comes with a pulley and cable system for body-weight exercises, flexible nylon strap handles, a padded glide board, and a wing attachment. Also included is the all-new AbCrunch accessory. It requires minimal assembly, doesn't take much space, and folds for compact storage.
Weider Ultimate Body Works
Similar to the XLS, the Weider Ultimate Body Works also takes advantage of body weight exercises. It doesn't take much space, and with the ability to strengthen the muscles and enhance your body flexibility. This machine has a max weight capacity of 250 lbs.
To increase resistance, all you have to do is to modify the incline. The sharper the incline, the higher the resistance. This model has eight levels of incline, allowing you to customize your workout as needed.
The Weider Ultimate Body Works was built with a telescoping design that allows the exercise bench to expand or collapse as necessary according to the user's needs or height. You can also introduce bands into your workout to increase difficulty with over 50 lbs of additional resistance.
Do exercises such as V-Crunches, lateral pulldowns, seated chest presses, and squats. After you are finished using the Weider Ultimate Body Works, you can flatten it and stow it under your bed or in your closet, keeping your home clutter-free. You'll want to make sure it will fit in the space you have in mind before buying.
Fusion Motion Portable Gym
With the Fusion Motion gym, you can get fit from practically anywhere. Whether working out at home, in a small apartment, on the beach, or in your hotel room, you can practice your resistance training. With over eight different attachments, you can sculpt your upper and legs.
Use the steel handlebars for pushups, use the ab roller wheel for working your core, and build your arms with the Fusion tricep bar.
To handle heavier, more intense workouts, this equipment includes tough, heavy duty steel bars. You can use these bars to support the heavy bands. The bands help perform squats or high-intensity arm curls. This gym comes with a detailed guide featuring over 200 exercises you can perform with this equipment. Ideal for beginners, you can get a decent workout using this equipment only 20 minutes a day and feel like you've done more.
Some people believe this the best compact home gym for the price. Created to simulate the bulky commercial exercise equipment you might find at a gym, the Body Boss combines these into one revolutionary strength-training concept.
The Body Boss is lightweight and compact, but versatile enough to act as a functional gym no matter where you go. Because you can take this gym practically anywhere, you can achieve more consistency in your workouts to get the results you desire. The fold-up VectorFit Platform and the cloth-wrapped bands assist with easy storage and transport.
The BodyBoss also allows you to customize your workout resistance by using the collapsable workout bar for over 300 different exercises. Using the fold-up platform, you can modify your resistance by lengthening or shortening the bands. Increase the challenge by adding a band on both sides of the platform. Using this equipment, you can get a lower body workout, and upper body workout, and cardio resistance boxing workouts.
Gorilla Bow Portable Home Gym
Just like other all-in-one compact training equipment in this list, the Gorilla Portable can be used anywhere. Take it with you to the park, to the office, in your hotel room, anywhere there might be a small space.
This equipment provides all of the benefits of a traditional compact home gym, but it isn't bulky or too expensive. The bow is made out of aircraft aluminum, and can withstand over 300 lbs of tension. With 4 levels of resistance (from 5 to 110 pounds), you can practice strength training without using heavy weights.
Depending on how you position the equipment the Gorilla bow, you can get a full workout, toning your arms, legs, abs, and glutes. You can use it to do many of the core building exercises you're already used to. Do bench presses for your chest, curls for biceps, and add more bands to increase difficulty.
As another in the list of Bowflex Home Gyms, this is a high quality option for the price, and you don't need to buy a weight plate set. The PR1000 provides over 200 pounds of resistance, with over 30 different strength-training exercises and a built-in rowing station. This gym replaces weight stacks with power rods. Doing all of the different exercises available on this machine is similar to nuking your excess calories from orbit.
Use the included media rack to watch your favorite streaming entertainment or training videos. Two training videos are provided with this equipment, along with seven trainer-built workouts. With this machine, you can easily change up the angle of resistance with the multiple cable pulley positions. The power rod resistance gives you the resistance of free weights but without the inertia.
Marcy 150-Pound Stack Home Gym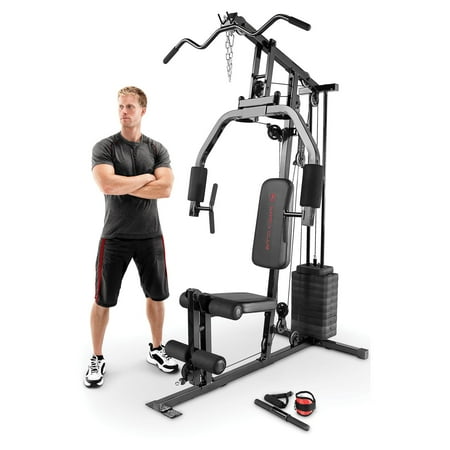 The Marcy 150-Pound Stack Home Gym was created to reduce the amount of time you might have to spend to reconfigure your equipment to engage in the exercise you want to do. All exercises are readily accessible and ready to go when you are. To engage in the bench press and vertical butterfly exercises, this machine provides dual-action. Included also is a pull up bar.
To prevent usage by unauthorized people, there is a safety lock. The selectorized weight stacks allows you to practice safe resistance training.
With the included ab attachment, you can target your core. The total leg developer allows you to also build up your lower body, with the foam rollers ensuring a soft, comfortable work out. Lastly, the flip-up footplate supports working out with your arms, whether standing or seated.
Buying a Compact Home Gym
In many cases, compact multi gyms can provide just as many exercise options as bigger units. Though you might not be as likely to get the same kind of results with a smaller piece of equipment as you would with say a full-sized commercial squat rack, for economical options, these machines are ideal. Here are some of the considerations you should make when purchasing a home gym:
Features
Design limitations usually decide the features of a compact gym multi. If you were to buy a universal gym in a box, such as the BodyBoss 2.0, the majority of the features are going to be attachments and resistance bands.
Bigger, more expensive gyms tend to have bigger and bulkier inclusions such as large, steel frames, a cable and pulley system, a bench, and stacks of weights and power rods.
On the compact gym units included in this article, the frames aren't particularly bulky. Many of these models have features such as removable benches or foldable elements to save space keep the footprint at a minimum. Thus your home or apartment isn't overwhelmed by the space taken up by the equipment.
On compact training machines, your movements are often defined by limitations on the pulley system. Low pulleys enable exercises such as upright rows, bicep curls, and shoulder presses, while high pulleys allow exercises like tricep pulldowns and lats.
Some home gyms come with a middle pulley system, good for performing core exercises, rows, chest presses, trunk rotations, and weighted crunches.
When compact home gyms include a bench, it will also usually have a mechanism for building leg muscles. The padded rollers provide support for leg curls and extensions, to develop your hamstrings and quads. For more examples of great leg extension machines, click here.
You can move away from traditional at-home gyms toward the Total Gym style equipment with the featured set changes. All you need is a basic cable and pulley system to perform exercises such as pulldowns, curls, presses, and more, but depending on the design, the way you do these exercises differs.
These models usually come with several attachments and accessories, such as ankle straps, wing attachments, and dip bars. Whatever style of home gym you go for, most come with materials explaining how to use it, such as DVDs, workout cards, nutrition guides, and wall charts.
Design
From my list above, you might notice that the best home gyms come in all different shapes and sizes, suitable for different spaces and goals. These designs minimize footprint without sacrificing functionality.
Every multi gym with a cable and pulley system has been designed to be used in smaller spaces. They often have items such as a folding rail or a removable bench, allowing you to minimize the footprint.
Many pulley-style machines have a sliding seat on rails to use your body weight for resistance instead of heavy weight plates or power rods. These units may take up a little more space to use but fold away after a workout, allowing you to put them under the bed or in the closet.
The "gym-in-a-box" products are excellent solutions if you are very short on space. With a full range of bands and attachments, so of these fitness kits support more than 200 different exercises. Though these kinds of box gyms are limited in ways because you can easily store them or even take them traveling with you in a suitcase, it makes them greatly advantageous.
In the end, the design of the best workout equipment you buy should depend on your goals. If you're an experienced lifter and looking for incredible gains, something that allows the use of Olympic plates is ideal. If you just need something to keep fit and need something space-efficient, a gym in the box product might be what you're looking for.
Resistance
The resistance levels of your one home multi gym will most likely be determined by the design, your budget, and your needs. While some gyms use a classic weights stack, others use rods or bands. Each of these kinds of resistance comes with pros and cons.
Rods, like those included with the Bowflex machines, can provide surprisingly effective resistances without using a weight stack.
Some gyms allow you to add Olympic plates. The problem with plates is that, well, the price. They're heavy and can come with huge shipping costs. But the advantage is that you can use as much weight as you like to build real strength and promote muscle gains. You can only make so much progress on a machine with a maximum weight of 200lbs of resistance.
When looking at a pulley-style of multi gym, you will find that they use bodyweight as a form of resistance, which can be effective. Using a kind of angle adjustment, you can increase resistance by steepening the incline, toughening the movement.
To increase resistance, some machines also provide resistance bands and bungee cords.
Other Considerations
When buying a home gym, you have to be aware of what kinds of limitations might come with the design you purchase. There's a reason that people sometimes resign to buying memberships to commercial gyms when they experience a lack of progress.
The lower the cost and more compact the size, the more limitations you are likely to experience with your home workout equipment. While compact units can serve in a pinch, they still come with lots of limitations when it comes to the range of motion and a lack of more challenging resistance levels.
This is why you need to temper your expectations with these purchases. Manufacturers try to pack in as many attractive features as possible while keeping the costs low, but you tend you get what you pay for.
On some models, the motion might be stiff and jerky. The cables might not feel durable, the seats might be wobbly, and the machine might easily break with extended use.
You shouldn't be discouraged by this. Having the ability to easily workout at home without taking up a lot of space with equipment comes with a lot of benefits!
Frequently Asked Questions
Who might benefit most from getting a home gym?
While home gyms might be convenient, it doesn't mean that they're ideal for everyone. The people who would benefit most from investing in home gym equipment would be people that:
Are shy about working out in public and prefer to stay at home.
Have enough space to keep or store a home gym. And that isn't everyone.
Have a special place in their home that they want to convert into a fitness center.
Find themselves constantly squeezed for time and can't make it out to the gym regularly.
Need extra equipment at home for supplemental training on days they can't make it to the gym.
Which home gym equipment is best?
It depends on your needs and the amount of space you have. If you have very little space to use at all, then one of the "gym-in-a-box" types of products like the Body Boss would work for you. If you have plenty of space, a universal machine like the Bowflex Home Blaze, or the Marcy 150, using plates will be suitable.
What is the best home gym for the money?
The Bowflex Gyms provide the most versatility for the price. It has plenty of features to fulfill most of the needs you might have so you don't have to sign up at a health club. The only drawback is the rod resistance systems, as there is little customization after a certain point. Though you can buy more rods for increased resistance, at that point, you might want to invest in gear that works with universal plates.
Does Bowflex home gym work?
It's no different than any other kind of home fitness equipment. If you use it regularly and are proactive about getting the most out of it, you'll see results. You can build muscle and burn fat, but these machines are mostly for beginners. You might progress past the point where the Bowflex is no longer useful for you. If you are an advanced trainer, you're probably going to want something with higher levels of resistance.
What size should a home gym be?
A gym should take up just enough space in your home to be useful to you and no larger. It should not get the way, cause a nuisance, and make sure it's in a place where it can't be trifled with by animals or small children. You don't want to end up throwing your clothes on it. If you're living in an apartment or just a single room, your home gym should be foldable so you can store it under a bed or in a closet when not in use.
Best small home gym setup?
The best compact home gym setup is in an area with plenty of room to fall over without hitting your head against something. You'll need room to extend your arms on your multi gym without hitting anything or anyone. If you have space in a cool garage for exercising, then it might be ideal for your needs. Again, the best small home gym setup will depend on your needs. If you need to cardio, you might look into an exercise bike.
Is there a big difference between the exercises I can do on a compact home gym vs a larger model?
Yes. While compact home gyms are great substitutes, they have their limitations. If you think about the goals of people who design these gym systems, their goal is to create something effective, affordable, and most importantly, compact. They're not trying to add every possible feature, to keep the price low.
Most compact gyms are comprised of only a few mechanical workout stations. Along with those, a few pulley systems are often included for additional functionality.